Background
Bono Infrastructure, Facilities & Project Management (IFPM) is a multi-disciplinary 100% PDI 'youth' owned South African company and 100% owned by woman, registered as close corporation. The company offers solutions in infrastructure, facilities and project management services.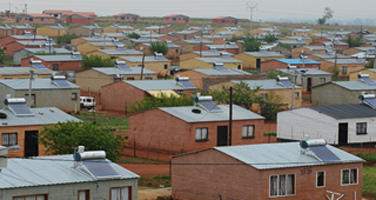 Vision
Our vision is to be one of the most efficiently run companies, executing services with excellence, professionalism and integrity.
Mission
BONO aims to offer prudent solutions in order to contribute meaningfully to a better life for its owners, employees, business partners and all other beneficiaries by:
- Providing efficient project management of any given project. From planning to completion, we offer a complete infrastructure and management solutions.
- Providing outstanding client services exceeding all expectations and enhancing the working relationship with all our stakeholders.
- Contributing to Government's goals of job creation and poverty alleviation.
---
What can we do for you?
---
Culture and Values

At BONO we have a simple philosophy: that by satisfying clients, staff, end users, suppliers and shareholders in all that we do, we can become the premier Infrastructure Management Company (whether it is designing, constructing or maintaining) in the sectors where we operate.

We strive to become a model of tomorrow's company – applying best practice to everything we do, creating a working environment that stimulates great ideas and rewards achievement, acting with honesty and integrity in our dealings with clients and suppliers, and making a decent return on our investments.

Corporate info

BONO Infrastructure, Facilities and Project Management (previously
Bay Breeze Trading 263cc) is a registered close corporation founded in 2006, wholly owned by Ms Andani Makhado. The company is a 100% woman-youth owned company. With a BEE rating of 110%.

Quality and Safety

Having the most effective and most robust systems to ensure that we continue to do the right things in the right way underpins our business.
BONO is unstinting in its commitment to health, safety, quality and the environment.

Education, training and awareness-building – for our own staff and for our clients and contractors forms an essential element in the implementation of our projects and a central support team ensures that the advice we give our teams is accurate, timely and comprehensive. Importantly we integrate the approach we take to safety, quality management and environmental management so as to ensure both compliance and best practice in all that we do.
Approach

Our approach ensures projects are completed on time and within budget, and mitigate unnecessary customer risk. We have the solid experience with strategic engineering partnerships and the tools, processes and experience to effectively manage all aspects of infrastructure, facilities, procurement and project turnover.

Because BONO approaches each project with a successful end user product as our ultimate goal, everyone involved – from the project team to the customer to the supplier - has a clear understanding of the project's scope and objectives. Our innovative execution processes, (the BONO Project Execution Planning Process) project control systems, turnover programmes and document control systems are tailored to fit customers' needs and ensure streamlined communication.

Each project has unique characteristics and challenges. Communication with customers, team members, suppliers and contractors – is key to our success. We successfully execute and deliver projects by working closely with customers and project team members.

Capabilities

BONO is capable of providing a portfolio of Infrastructure, Facilities and Project Management services across the built environment. BONO Infrastructure, Facilities and Project Management's philosophy has been to build upon those areas of expertise that have made the company so successful, forming strategic relationships with other specialists and professionals to create 'best-in-class' teams for our clients.

BONO has extended its services both up and down the project lifecycle. This means we not only provide concept-to-completion support on projects but go on to manage the full project and facilities by applying our knowledge of design, environment, infrastructure construction, programme and project management, facilities, and alternative infrastructural energy(solar)
Founding Principles

BONO was established and is led by Ms Andani Makhado, a professional individual, who perceived that the industry was hungry for change in the way that it procured and delivered projects.

We believe that the time has come for new, non-adversarial, more collaborative ways of working and that Infrastructure, Facilities and Project Management, a growing phenomenon in the industry, best embodies these values.

People

BONO people are known as much for their enthusiasm and motivation as for their skills and qualifications. That's why we concentrate so much on making Bono a great place to work and why we look for individuals with a 'can-do' approach to business and their relationships.

BONO is a young, vibrant and dynamic company and we attract innovators and leaders to our business. This means that we can offer a calibre of professionals that represents the industry's best, and teams that are at the very forefront of management best practice.